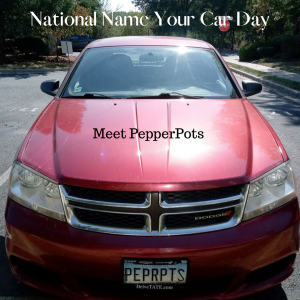 Today is National Name Your Car Day and it makes me think about self-care. What? How? Why?  Many people will ask questions such as these when they read that statement. They may think I don't know what I'm talking about. However, the truth is that many of us take better care of our possessions than we do ourselves. 
Deny it! Just try to! We all do this. We take care of our houses, our clothes, our cellphones, and especially our cars. So many of us name our cars (PepperPots is mine). But, we ignore our bodies telling us to slow down and relax. We ignore easy to do things that will make us feel better and be healthier. For example, we stop at a fast food place because we don't feel like cooking. We don't go to the gym because we are too tired. We don't sleep because we have so much to do. 
The truth is that we all need to think about ourselves. This is not selfishness on our part. This is what is needed to be able to be the best person we can be. We need to take time to cook healthy. We need to find time to go to the gym or take a yoga class. We need to nap and sleep when our body says it's tired instead of drinking more caffeine. Self care is important for everyone. 
With that said, massage therapists are taught about self-care in their massage therapy training. We learn about how to give the most benefit to our clients without hurting our own bodies. We are taught to ground ourselves and be present in the moment. This is one of the best parts of the massage therapy program – learning to listen to our bodies and follow what our bodies are telling us. In all honesty, self care helps us help our clients. Teaching our clients about self-care is also important. 
So name your car, but remember personal self care should be right up their with caring for our possessions. 
ASIS Massage Education Mesa campus has a:
Yoga for Massage Therapists happening on October 6th from 8am – 12:30pm The tuition is $80 and you earn 4 CEUs toward license renewal.  Click here for registration information. 
Community Class to indulge in learning to Make Pumpkin Spice Lotion. This class is on October 20th from 9am – 12pm and costs $25. You do not need to be a massage therapist to attend this class, and it is a great way to indulge in Fall self care. Click here for registration information.
**Staff Blogger