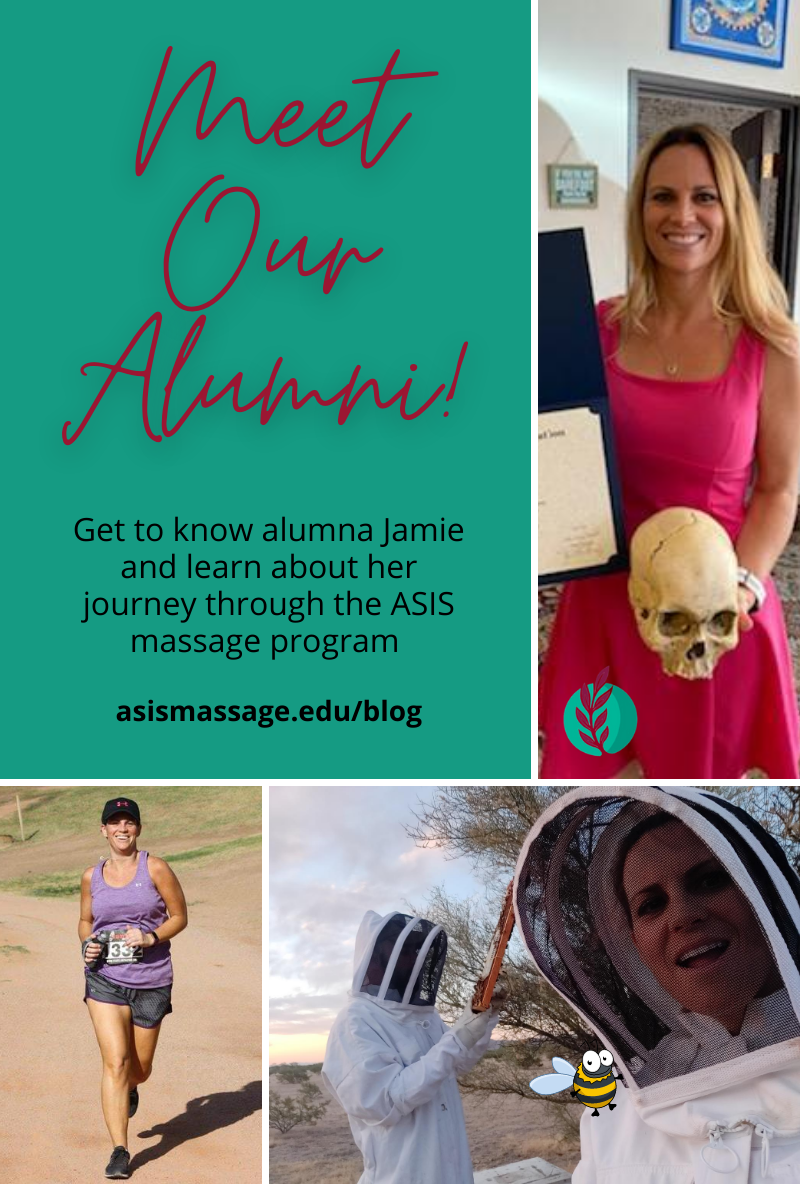 We get to meet Jamie Tait, recent graduate of ASIS Massage Education. In her spare time, Jamie loves to scuba dive, fish, go shooting and racing (not at the same time), travel and loves hockey and her bees. At school, Jamie was often mentioned by her instructors and fellow students as being a pleasure to have in class and a joy to get to know. Marna, one of her instructors summed it up nicely:
"That girl is a hard worker with a beautiful presence to her work."
You could always find Jamie staying late or coming in early to pick instructors' brains about something she was working on. She produced a unique and incredible case study project that featured working with clients with PTSD that we often talk about with current students to give them encouragement of taking bodywork beyond some of the more traditional approaches.  She also won 1 of 2 AMTA student scholarships for our students at ASIS. Her submission shows just how much Jamie lives and breathes massage and bodywork:
"When I was 13 I had an opportunity to do energy work at an all women's retreat at the highest point on the island of Kauai with healers from all walks of life. This was the first time I experienced what the transfer of energy felt like. It was a very emotional experience that brought so much inner peace to many. I knew then that I wanted to be a part of this community for the rest of my life and share a place that people can create in their own minds when they relax and become receptive to detaching from the world."
We had a little fun telling Jamie she won the scholarship:
Let's get to know Jamie in her own words:
What campus did you attend?
Mesa
Why did you choose ASIS?
The part time schedule fit my work schedule, the classes were available to go straight through and the follow up from the staff.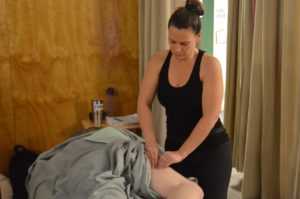 What was your favorite class during massage school?
Sooooo many! CT, Injury and Thai for sure but the others are a close second
Can you share any memorable moments from school?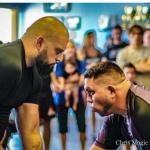 Julia tried to make me an Olympic swimmer while prone on a massage table. (You really had to be there) laughed so hard I cried. Laughing until you almost pee is pretty much a normal day. Once I got Roman in a choke hold, lasted two seconds before he jiu jitsued me.
What did you struggle with during school and how did you overcome it?
Memory, never did overcome it. Write it down, study it,color it and act it out, make it rhyme.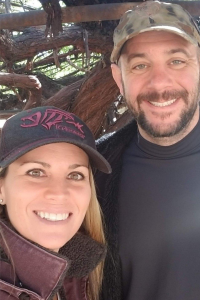 What did you learn about yourself during massage school?
My husband says I already knew I was a big hippie LOL. OK, it calms my monkey brain. I was with my people, my community.
What was your journey to get to where you are now?
A lot of ups and downs like anyone I suppose. I appreciate all of it, now.
What continuing education classes are you thinking about taking in the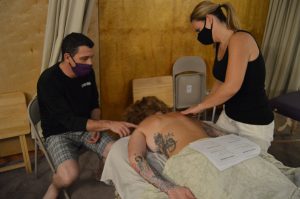 future?
Craniosacral and CT for sure but anything that sparks my interest that I can afford.
Where do you see yourself in five years?
Established in my practice and still content in life.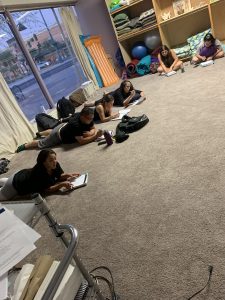 What advice do you have for new massage students? 
It's a feeling not just an education. Like Carl always said, "what's your intention?"
To wrap up, one of my favorite moments from the Massage Olympics…the pregame interviews. Jamie's is one to remember forever:
Thanks for the memories, Jamie!