Introduction to Ayurveda & Abhyanga Massage – Tucson Campus
November 10, 2019 @ 9:00 am

-

6:00 pm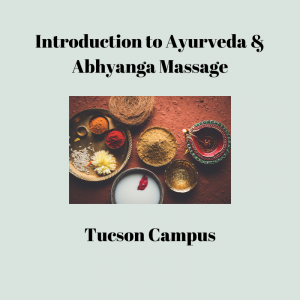 Learn the Ancient Art of Abhyanga oil massage
and identify your clients constitutional type
based on the 3 Doshas.
Ayurveda is the ancient healing system of living life in balance. During this course you will learn the basic principles of Ayurvedic healing and philosophy. We will discuss the concept of constitutional body types based on the three doshas, and how to ascertain your clients' imbalances and health issues based on their constitution. We will learn the Abhyanga massage, a traditional oil massage used in Ayurveda to detoxify, rejuvenate and soothe the mind and body. The Abhyanga is massage therapy which incorporates a variety of friction and warming strokes to work therapeutic oils deep into the tissues and loosen toxicity and lubricate the joints and muscle fibers. There will be ample time given to hands on practice of the Abhyanga massage and how to incorporate this therapy into your current practice.
Clinton Horner has over 30 years' experience in the field of Ayurveda and has been the director of the Ayurveda Programs at Miraval for the past 21 years, offering therapies and educational classes. Clinton worked with Dr. Deepak Chopra at the Chopra Center for 10 years as a therapist, educator and meditation instructor.
ASIS Tucson, 639 N. 6th Avenue,Tucson, Arizona, 85705
Instructor: Clinton Horner
Date/Time: November 10th, Sunday 9 am – 6 pm
Location: ASIS Tucson Campus
Tuition: $185.00
Prerequisite:
Registration Contact: call/text (928) 451 4853 workshops@asismassage.edu
Continuing Education Credits: 8
Related Events