SAVE YOUR BODY! Alexander Technique for Massage Therapists; Posture, Movement, & Ergonomics – Tucson Campus
December 7, 2019 @ 9:00 am

-

3:00 pm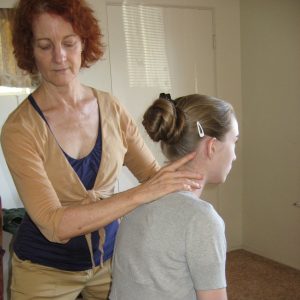 It is essential for the longevity and success of the career of a massage therapist to know how to use the mind/body with optimal efficiency. This experiential, hands-on class provides knowledge about "true" body mechanics based on the work of the FM Alexander-Alexander Technique, and D. Raymond Dart PhD, anatomy/anthropology. Students will learn positive, conscious choices and methods on how to perform massage techniques with minimal impact on the body: Avoid pain, tension, and injury. Improve body use and endurance. Enhance quality of touch.
Rochelle Reea is a Certified Teacher of the Alexander Technique, earning a 3-year credential in 1981. She was on staff at two prominent massage schools for several years each: Desert Institute of Healing Arts in Tucson and New Mexico School of Healing Arts. Rochelle is also credentialed as an Ergonomics Specialist.
Rochelle's course was one of the most successful approaches to teaching students to move their bodies and perform massage techniques with correct posture, thus preventing injury to their body.
~ Margaret Avery Moon
Past owner of Desert Institute of
Healing Arts, Tucson
Instructor: Rochelle Reea
Date/Time: December 7th – December 8th 2019 , 9:OOAM-3:00PM
Location: ASIS Tucson Campus 
Tuition: $250
Early Registration Discount: Pay before November 7th 2019 and pay $225
Registration Contact:520-343-0338
Continuing Education Credits: 10
Related Events